The month of lovers has arrived … the month in which many of us celebrate February 14 in a special way!
Although on Valentine's Day there are many options for dining out, it is very interesting to make a special menu at home, tasty and that makes this day even more special. Especially for those who like to escape the confusion, a special and romantic dinner at home allows us to be in our haven, much more at ease than in the crowd.
If you want to do things differently this year and avoid confusion and overly inflated restaurant prices, nutritionist Maria Gama, from the blog, put yourself on the Line, the perfect menu for Valentine's Day which, besides being quite tasty, is also very healthy.
Whether to surprise your boyfriend or even to cook together, with this menu you can still celebrate with a special meal, without spoiling the efforts you have made at the level of training. Another good tip to make this Valentine's Day even more fit is to take advantage of the healthy wave of Maria Gama's menu and offer feminine or gym clothes male to your better half. So, in addition to training in style, they will always remember each other even in the gym!
Entrance:
Main course:
Dessert:
Strawberries covered with chocolate and almond
Avocado and cocoa mousse
Energy truffles
Bruschetta
Ingredientes:
Dark bread
Garlic
Tomato
Q.b olive oil
Basil
Black pepper
Salt q.b
Smoked Salmon
Avocado
Eggs
Method of preparation and cooking:
Start by slicing bread and toasting.
Rub the clove of garlic on each of the slices of toasted bread.
Filling options:
1) Chop the tomato into quarters and season with olive oil, chopped basil, salt and pepper.
2) Crush the avocado, season with black pepper and lemon. Place a poached egg on top.
3) Cut the fresh cheese into cubes and season with oregano and olive oil, placing the smoked salmon on top.
Place on toast and serve immediately.
Spiritual cod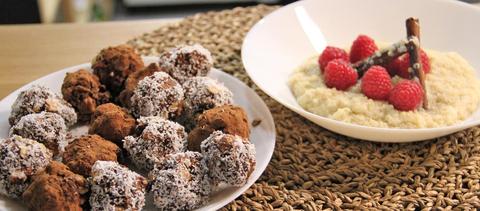 Ingredientes:
Shredded cod (1.2 kg)
Spinach (170g | 1 package)
Grated small carrots (9)
Heart cabbage (1)
White onion (1)
Quark cheese (700g)
Grated cheese (500g)
Garlic cloves (6)
Blonde (1)
Olive oil (4 tablespoons)
Black pepper
Parsley (80g)
Method of preparation and cooking:
In a pan, place the oil, the chopped garlic, the onion and the bay leaf.
Let it sauté and then add the cod (as the cod is already cooked, it is not worth cooking before).
Then add the spinach, carrots and heart cabbage, letting it cook slowly.
You can add seasoning to taste, like black pepper.
When it is cooked, remove it from the heat and add the quark cheese, wrapping until smooth.
Then place it in a layered pyrex (cod layer, grated cheese, cod layer, grated cheese) and place the chopped parsley on top.
Take it to a preheated oven at 180ºC until golden on top.
Strawberries covered with chocolate and almond
Ingredientes:
Strawberries to taste
Dark chocolate (100g)
Coarsely chopped almonds (50g)
Method of preparation and cooking:
Wash the strawberries well and dry.
In a saucepan, place the chocolate and stir until melted. Then remove it from the heat.
Place the strawberries in a pyrex dish and dip each one in the chocolate, sprinkling with chopped almonds.
Take the refrigerator about 15 minutes and enjoy.
Avocado and cocoa mousse
Ingredientes:
Avocado (1)
Natural yogurt (1)
Bananas (3 ripe)
Pure cocoa powder (1 dessert spoon)
Peanut butter (1 tablespoon)
Method of preparation:
Grind all the ingredients in a blender or with a magic wand and serve to taste.
Energy truffles
Ingredientes:
Oat flakes (1 cup | 150g)
ginned dates (15)
Peanut butter (1 tablespoon full)
Cocoa powder (3 tablespoons)
Hazelnuts (100g)
Water (50ml)
Coverage :
Coconut or cocoa powder (1 tablespoon)
Method of preparation and cooking:
Start by placing the hazelnuts in the food processor and chop them coarsely. Reservation.
Place the oats and cocoa in a food processor and grind well.
Add the dates, peanut butter and water and mash everything until you get a homogeneous dough.
If necessary, add more water to make the dough more compact.
Go to a bowl and gather the hazelnuts.
Shapes small balls.
Pass the truffles through grated coconut or cocoa powder and place in the refrigerator.
With the help of Maria Gama you can now celebrate love in the most appetizing way and in the comfort of your home. Be happy (and healthy)!