Are you already aware of Tatiana Costa's opinion of Scoop by Scoop about the Swift Eight set. Um ? It's true, Tatiana Costa tried on some of our sportswear and now she tells you everything she found!
For those who still don't know, Tatiana Costa is a fitness athlete, designer and personal trainer, loves to try healthy recipes and has a project fantastic dedicated to fitness, health and lifestyle – the Scoop by Scoop -, in partnership with the Fitness / Bodybuilding athlete Gonçalo Mosqueira.
This time, Tatiana Costa comes to talk to you about two pieces Eight. One with Seamless Dry technology, a process that recently started to be used in the production of fitness clothing. If you are a sports lover, it is natural that you have heard of this technology, but do you know exactly what it is about? We explain!
What is Seamless Dry Technology?
Seamless fabrics started to be used in sports clothing with a view to your greater comfort during training.
This innovative form of production makes it possible to have fewer seams and less points of friction in the clothes, adjusting perfectly to your body without squeezing or conditioning your movements. In addition, this process also allows you to perform a piece with different compression zones, which increases the oxygen supply to the muscles, decreases muscle vibration and reduces the risk of muscle microtrauma.
In sports pieces Eight, um, seamless fabrics also incorporate Seamless Dry Technology , giving your body greater breathability and faster evaporation at specific points of sweat, which increases comfort and improves your sporting performance.
In addition to Seamless Dry technology, the sports clothing tested by Tatiana Costa also contains Sanitized Technology , a hygiene treatment that prevents the proliferation of bacteria that cause bad odors .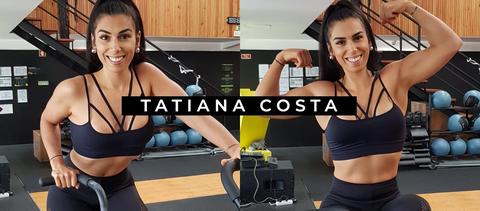 REVIEW: Tatiana Costa from Scoop by Scoop talks about Open Air Leggings and Top Straps Eight. One
The pieces Eight. A Seamless Dry that Tatiana Costa tried were the Legging Open Air , which combine this recent technology with a more contemporary style, and the Top Straps , a stylish and super comfortable top.
Open Air leggings, made in a single piece in seamless fabric and with elastane, give maximum comfort to your workouts, functioning as an authentic second skin! These leggings also have perforated areas on the front that, in addition to giving you a very bold style, allow greater ventilation to keep your body cool and dry during training.
In addition, the Open Air Eight leggings. One includes a silicone band "Non-Slipp" on the waist, which helps the legging to always stay in the right place, even during exercises that require greater mobility, such as squats. , deadlift or lunges.
The Top Straps, in addition to having a combination of super trendy handles, gives you high thermal comfort as the Seamless Dry technology allows for quick drying of the body and the top itself.
Are you dying to know everything Tatiana Costa thinks about this set? Then click "play" in the video below!